Truancy Charges in Cincinnati
If your child or teen misses too many days of school without a valid excuse, a pattern of behavior known as truancy is raised, and juvenile criminal charges are possible.
If your child has been charged with habitual or chronic truancy in Cincinnati, you should seek help from a juvenile defense lawyer immediately. A lawyer with experience handling truancy cases involving juveniles can advocate for your child and work to get you an outcome that keeps your family together and preserves your child's future.
To address Cincinnati truancy charges properly for the beginning, contact LHA at (513) 338-1890 for a free, initial consultation with a lawyer.
Is Truancy a Crime in Ohio?
The short answer – it can be. When your child repeatedly is absent from school or truant, your child may face proceedings and penalties in a juvenile court. Additionally, you may face criminal charges in an adult court. If convicted, the possible consequences may include:
A jail sentence
Fines and court costs
A permanent criminal record that can affect your employment or future employment
Your child may be removed from your home and placed with relatives or in foster care
When is a Child Truant?
All kids miss school sometimes. He or she will catch a cold or flu, sprain an ankle while playing sports, or have a family emergency that keeps the child or teen out of school for a day or two. Ohio law recognizes that students will sometimes be absent from school for valid reasons.
If the student has a signed note from a parent or guardian, infrequent absences aren't typically a problem. It's when absenteeism becomes what is known as habitual or chronic truancy that the juvenile, and parents or guardians, may face legal consequences.
Truancy Penalties for Juveniles
A juvenile who is habitually truant from school may be deemed an "unruly child" in an Ohio juvenile court under Ohio Rev. Code 2151.022. When absenteeism rises to the level of chronic truancy or when a juvenile already has an unruly child determination on his or her record, the juvenile may be deemed "delinquent."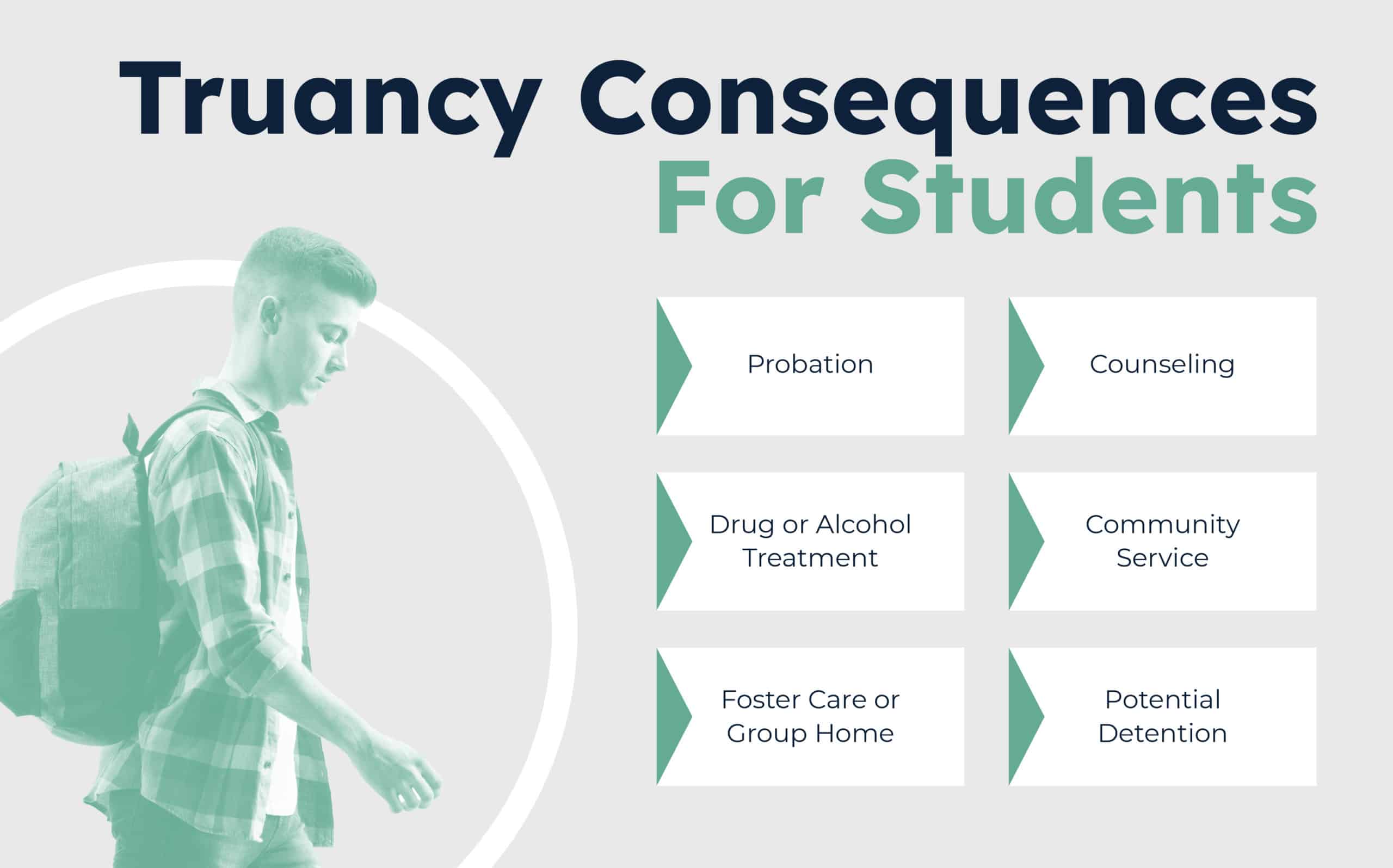 When a juvenile is found to be unruly or delinquent because of truancy, the possible outcomes may include:
Probation
An order for counseling
An order for drug or alcohol treatment
Community service
Placement in foster care or a group home
Detention, but typically as a last option when a juvenile has a lengthy record
Habitual or chronic truancy also can affect a teenager's ability to get or keep a driver's license. Ohio law requires a school district to report habitual or chronic truancy to the Bureau of Motor Vehicles. In turn, the BMV will suspend a student's learner's permit or driver's license, or bar the student from getting a driver's license, until he or she turns 18 or the school district notifies the BMV that the student is attending school again.
Truancy in Ohio Juvenile Courts
Juveniles who are truant face proceedings in juvenile courts. Truancy is what is known as a status offense, meaning it's an offense that is only a violation because of the juvenile's age and is not otherwise an offense if committed by an adult.
Juvenile courts are structured somewhat differently than adult courts. The stated goal of juvenile courts in Ohio is to rehabilitate juveniles. Accordingly, the outcomes are designed to give the juvenile the tools he or she needs to make better decisions in the future — in the case of truancy, or deciding to go to school.
Outcomes can be punitive and designed as deterrents, but the juvenile process also is designed to evaluate the underlying reasons why a juvenile committed a violation and to connect the juvenile to resources to resolve issues such as parental neglect, mental illness, or alcohol or substance abuse.
Truancy Penalties for Parents
It isn't only absentee juveniles who face penalties for repeated truancy. In Ohio, parents have a legal obligation to ensure that their school-age children receive instruction. When a minor fails to attend school without a valid excuse, the minor's parents or guardians can be held accountable.
If a child who is habitually or chronically truant is determined to be an unruly or delinquent juvenile, then Ohio Rev. Code 3321.38 allows you as a parent or guardian to be charged with the criminal offense of Contributing to the Unruliness or Delinquency of a Child. Section 3321.38 is the statute that prohibits a parent or guardian from failing to send a child to school.
If you're charged with contributing to the unruliness or delinquency of a juvenile, then Ohio Rev. Code 2919.24 says you may be convicted of a 1st-degree misdemeanor. The penalty for a 1st-degree misdemeanor includes up to 180 days in jail and a fine of up to $1,000.
Truancy & Nonsupport of Dependents
If your child is habitually or chronically truant, Ohio Rev. Code 3321.38 also allows you to be charged with Nonsupport of Dependents, also known as failure to provide adequate support. That's the same statute used to charge people who don't pay child support. But in the context of truancy, failing to ensure your child attends school can be a form of neglect and may result in a charge under Ohio Rev. Code 2919.21(C).
The penalties for nonsupport of dependents may include:
1st Degree Misdemeanor — A first offense is a 1st-degree misdemeanor punishable by up to 180 days in jail and a fine of up to $1,000. However, a judge may appoint you to community supervision or probation on a first offense.
4th Degree Felony — Nonsupport is a 4th-degree felony punishable by 6 to 18 months of incarceration and a fine of up to $5,000 when you have one or more prior felony convictions for nonsupport.
5th Degree Felony — Nonsupport is a 5th-degree felony punishable by 6 to 12 months in jail and a fine of up to $2,500 when you are found to have failed to support a depending for 26 or more non-consecutive weeks.
A knowledgeable defense lawyer can explain the differences between these truancy charges and what you might expect given the unique facts of your case.
Habitual & Chronic Truancy in Ohio
Ohio Rev. Code 2151.011 defines a habitually truant juvenile as any child between 6 and 18 — defined under Ohio law as the ages at which children must attend school — who is absent more than a set number of days without a valid excuse.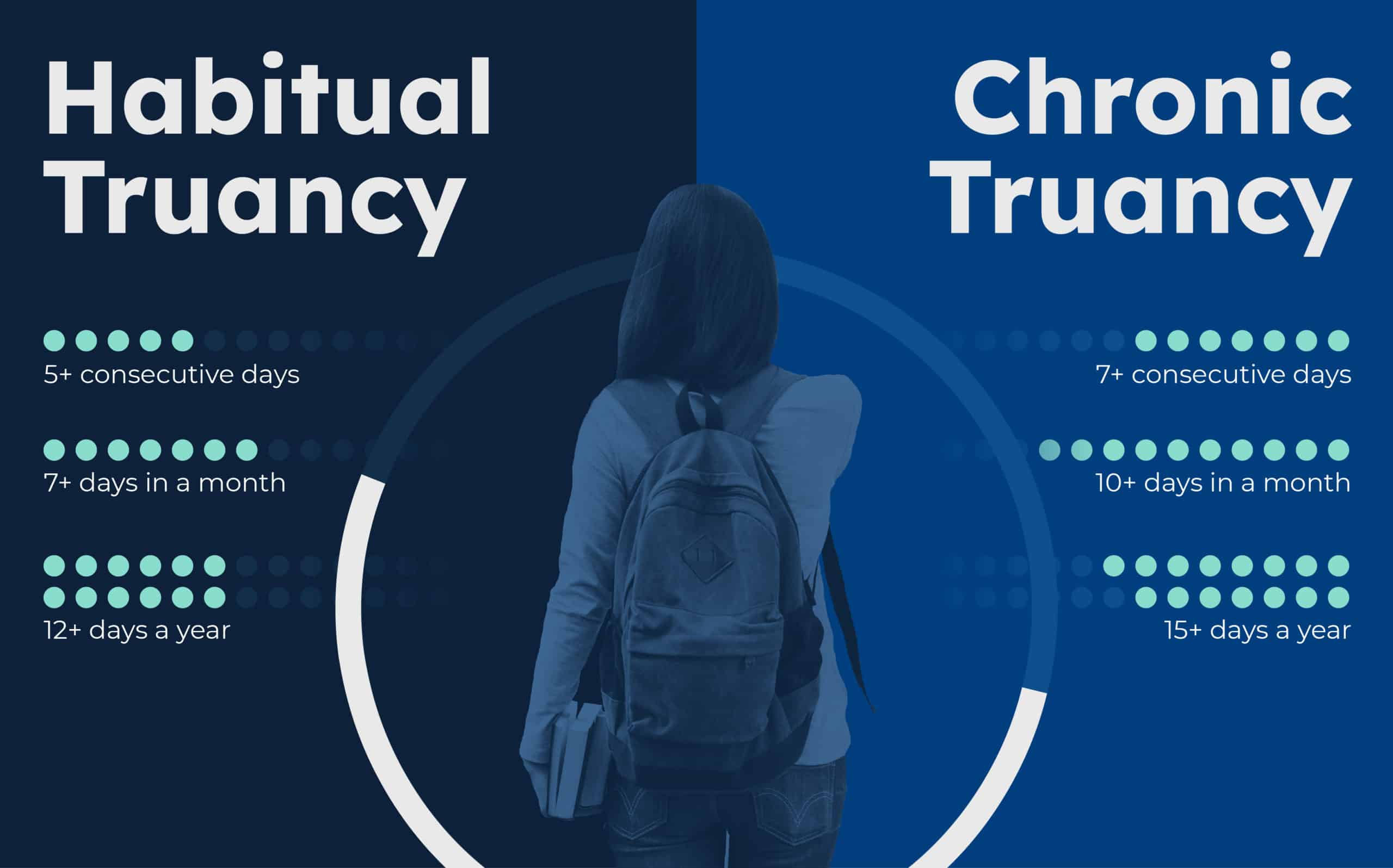 Habitual truancy is defined as when a student misses:
More than 5 consecutive school days
7 or more school days in a month
12 or more school days in a year
Chronic truancy is an escalation of absenteeism. A juvenile may be considered chronically truant under Ohio Rev. Code 2152.02 when the student misses:
More than 7 consecutive school days
10 or more school days in a month
15 or more school days in a year
Valid Excuses for Extended Absence
Excuses considered legitimate for habitual or chronic absences may depend on the policies adopted by your local school board. However, when a student is habitually or chronically absent from school without a recognized excuse, you and your child may face legal proceedings in Ohio courts.
Legitimate excuses to be absent from school for extended periods may include:
Being enrolled in and attending another school in the state
Some diagnosed physical or mental condition prevents the child from attending school, and the child is getting appropriate instruction outside of school
Home schooling within compliance with Ohio laws
A child over 14 may be excused from school to perform necessary work for parents or guardians, such as working on a family farm, if the school board has adopted rules authorizing such an absence
A Lawyer Can Help with Truancy Charges
It's not uncommon for students to occasionally duck out of classes to be rebellious. However, when truancy becomes a habitual or chronic problem, the consequences can be very serious for the student and his or her parents or guardians.
There may be legitimate reasons why a student missed school, and a lawyer can effectively move you through the process and clear up any misunderstanding about a child's absence. Additionally, by working with an attorney, you can more easily fight proceedings in juvenile court or any criminal charges levied against you as their parent. By advocating on your behalf and presenting a compelling defense the better your odds at securing a favorable resolution to truancy charges in Cincinnati, Ohio.
Call LHA for a Free Consultation
Don't hesitate to contact attorney Brad Groene and the defense team at LHA. We will fight to protect you, your child, and everyone's record. Call (513) 338-1890 or contact online for a free, initial consultation.